Light of the World Ballet Company and School presents "Follow the North Star", a story-ballet based on the underground railroad.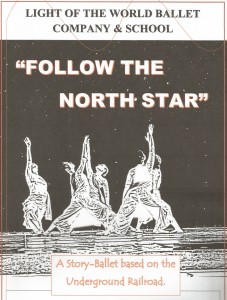 Join us at Believers' Chapel Cicero on June 6 & 7 at 7PM to see the premier of our new ballet. Tickets are $5 in advance and $8 at the door. Children 3 and under are free. Call or e-mail Ashley Fortenberry to order tickets
(akfortenberry@gmail.com, 706-457-0011).
News
---
Brochures
Performances
April 17- Cortland Christian School (Cortland, NY)
April 28, 3 and 4 pm- Girls' prison
May 2, 12-12:45 PM- National Day of Prayer, Syracuse Court House (Syracuse, NY)
May 2, 3 PM- Camillus Ridge Adult Home (Camillus, NY)
May 6- Word of Life Girls' night out
May 10, 7:30 PM- Lighthouse Community Church (Syracuse, NY)
May 14, 2:30 PM- Sunny Side Adult Home (Syracuse, NY)
May 14, 7 PM- Mexico Satellite (Mexico, NY)
May 21, 7 PM- Elim Bible Institute (Rochester, NY)
May 24, 6:30 PM- Hope Network, Northside Baptist (Liverpool, NY)